416th Bombardment Group (L)
668th Bombardment Squadron (L)
Personnel
Return to Table of Contents
---
---
Video Interviews
The video interviews linked below are protected by copyright

and may not be saved nor reproduced in whole nor in part except for personal - noncommercial use.

(These videos are saved in Quicktime Movie (.mov) format and are relatively large files that may not download well with dialup internet connections. Some PC users may find it necessary to download a .mov player application which can be found online at http://www.apple.com/quicktime/ )

John J. (Jack) Sittarich - POW
42-minute interview detailing the events of Mission #239 to Worms, Germany on March 18, 1945

leading to the capture and imprisonment of Ssgt Sittarich and the death of Lt. Jimmy Kenny

(Taped in 2009 at 416th BG reunion - Branson, Missouri)
5-minute tape of Jack Sittarich reading a letter he wrote to Jimmy Kenny's mother after the war.

---
Squadron Headquarters Personnel
Major R.F. Price, Commander

Crew Photos
Wethersfield Airfield, UK, April 1944
Left to Right: Lucian J. Siracusa; He was shot down on May 27, 1944 over Amiens, France. He and his crew bailed out and were POW's for the rest of the war. I talked to him in London shortly after the war ended where he was waiting to be returned to the USA. Richard Shaefer, a West Pointer who became a General after WW II. Robert D. Lesher who completed 65 missions. Joseph F. Meagher: On his 65th mission to Saarlauten, Germany on December 2, 1944, Flak broke his leg and knocked out his right engine. He crash landed in a field in friendly territory and was taken to the hospital. His crew was not injured. (Photo and comments by Wayne Downing)


Wethersfield, Spring of 1944 Left to right: Ssgt W.J. Donahue, Lt. E.L. Johnson, Ssgt M.R. Brayn
(photo courtesy of Andy Fluxe)

Lt. Paul Parker with gunners Sgt Stanley Kochan and Sgt Arthur F. Galloway in front of A-20 at Melun-Villaroche, France.
Perforated Steel Plate (PSP) was put down in the 668 BS aircraft parking area at A-55 after we arrived since that part of the field did not have any parking hardstands. There were several whole landing strips made of this stuff in Normandy. The field at West Cherbourg was a 3000 foot strip of this material. Henry Clay Allen, former commander of the 2911th BS at Keevil, moved his Air Transport Group of C-47's here after Cherbourg was captured. There was a problem with this material when it was raining. The aircraft would slide when the brakes were applied. A few went off the end of the runway into the mud if they didn't touchdown close to the end of the runway. (Photos and comments by Wayne Downing)


Lt. Robert G. "Gee" Meredith at 668th quarters in Wethersfield
(photo courtesy of Wayne Downing)





Back Row L to R: Lt. R.G. Meridith, Lt. Gus Ebenstein, Lt. L.G. Peede, Lt. R.K. Cruze

Front Row L to R: Lt. B.H. Bradford. Lt. R.T. McBrien

Melun-Villaroche Aerodrome (A-55), France, September 1944.

668th Bomb Sq. gunners in the squadron living area (a muddy field), quarters behind.
BACK ROW from left to right: Clarence R. Yost, Kenneth E. Hornbeck, Daniel R. Schencks, Douglas Hantske
FRONT ROW from left to right: Joe E. McCreery, Charles Fetko Jr., Stanley Kochan Jr.,
Joe C. Burkhalter (photo courtesy of Ken Hornbeck)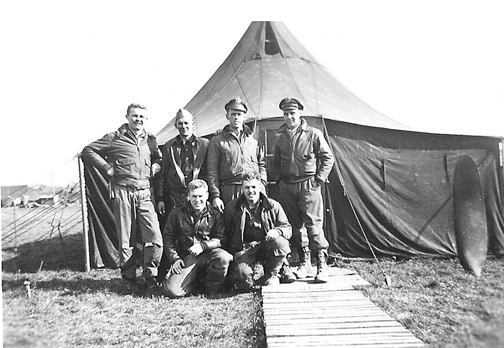 Melun-Villaroche Aerodrome (A-55), France

Back Row L to R = Frank Harris, Thomas O. McCready, Carl S. Stanley, Hugh M. Evans
Front Row: James H. Montrose, LeRoy R. Zeimet (photo courtesy of Phil Stanley)
Melun-Villaroche Aerodrome (A-55), France
James H. Montrose, pilot (left) and Galen F. Bartmus, pilot at 668th quarters
(photo courtesy of Phil Stanley)
Lt. LeRoy R. Zeimet, Melun-Villaroche, Fall 1944 (photo courtesy of Phil Stanley)
Lt. Judson H. "Judd" Blount, bombardier/navigator
Melun-Villaroche, Fall 1944 (photo courtesy of Phil Stanley)

Lt. Robert E Shaft (BN), Lt. Frank Mazanec (Intelligence Officer), Lt. George Parkhurst (Pilot)
Lt. Paul Parker (Pilot), Lt. Lou Prucha (Pilot) at Melun-Villaroche (photo courtesy of Rick Prucha)

---
Support Personnel
Lt. Col. Chester C. Wysocki, 668 Bomb Sq. Executive Officer (photo courtesy of Phil Stanley)
668th Bomb Sq. Communications Officers
Lt. Lancelotti (668th) left; Lt. Cathcart right (photo courtesy of Wayne Downing)
TSgt. James A. Brabham, Crew Chief A-26 #204, France 1945 (photo courtesy of Phil Stanley)
Roland E. Dullnig, Crew Chief A-26 5H-M, Laon, France 1945 (photo courtesy of Roland Dullnig)
---
Post War Obituaries
Lester Gustave Alsleben

James Kellam Colquitt

Leland Carmon "Lee" Ferguson

John F. Geyer

Kenneth E. Hornbeck, Jr.

Ralph Joseph Lackner, Jr.

John R. "Jack" Olson

Paul E. Parker

James Potter "Jim" Phillips

Lumir Joseph "Lou" Prucha

John J. "Jack" Sittarich

Carl S. Stanley


---
See also:
Squadron History
Squadron Memorials
Squadron Operations