416th Bombardment Group (L)
Mission # 271 -- April 12, 1945, Thursday PM
Hof, Germany
Railroad Bridge
Previous Mission # 270
Mission List
Next Mission # 272
Return to Table of Contents
---
Summary of Operations
Field Order : 251-848
OpRep # : 12a
Nature of Mission : Bombing
Mission Status : Attacked
Bombing Altitude : 5,000 - 5,500 feet
Take-off Time : 1517
Time Over Target : 1710 - 1719
Landing Time : 2015
Duration (Hrs:Min) : 4:58


Place of Take-Off : A-69 Laon/Athies, France
A/C Dispatched : 27 Total -- 27 A-26's
Modified British System Reference: WJ-964013
Secondary Target : Suitable Alternate Authorized
Summary of Results : Three flights Excellent, one Superior.

Primary Target Latitude/Longitude: 50.33759,11.90563 (50° 20' 15" N, 11° 54' 20" E)
(Latitude/Longitude based on The "Coordinates Translator", (NGZ) wJ964013)
(See Latitude/Longitude Coordinates and Target Identifiers for more information.)

Scanned original Mission 271 documents (multipage PDF files)
Mission Folder
Reports Folder
OpRep # 12a
Fuel Use
If nothing happens on Click, check to see if the PDF file was automatically saved to your computer. Depending on Internet speed, the display or download may be slow.
These Public Domain, Declassified Mission documents were graciously provided to the 416th BG Archive by the dedicated staff of the
Air Force Historical Research Agency
(AFHRA).
An on-line index of records held by AFHRA up to 2001 is available at
Air Force History Index.org
.
Most of these PDF files are unaltered originals provided by the AFHRA, a few have been re-organized.
Pages may be out of sequence; files may contain scanned blank pages and/or pages scanned upside-down; some pages may be included in more than one file.
The "Mission Folder" usually contains the majority of documents for a Mission, including Field Orders, Status Reports, Pilot Interrogations, Photos (if available), etc.
---
Loading List 1, Box I
Loading List 1, Box I, Continued
One Camera Aircraft Also Assigned To This Mission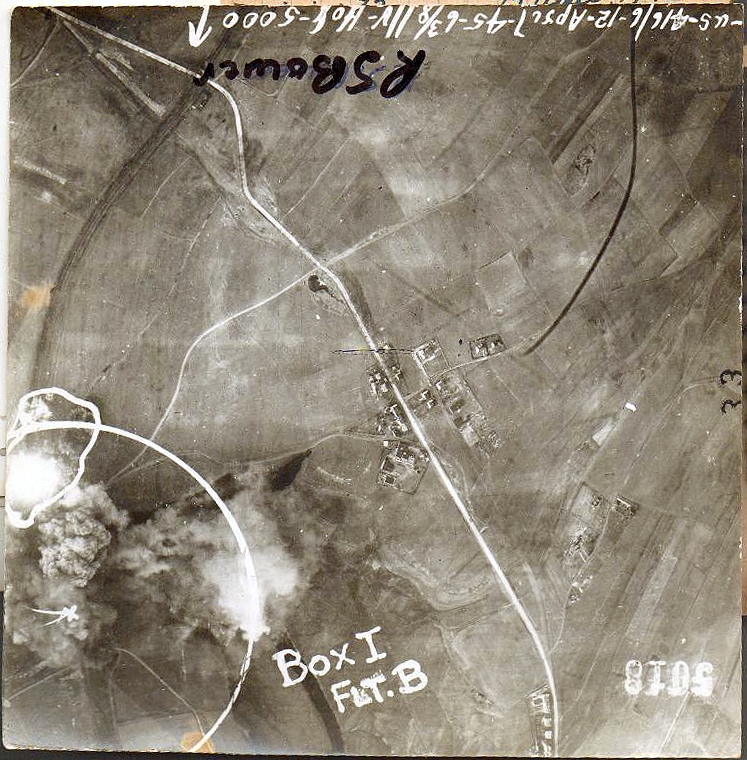 Bomb Run Photo
(Lt. Robert S. Bower Combat Journal)
---
Mission Loading Lists Transcription
Mission # 271 -- April 12, 1945, Thursday PM
Hof, Germany -- Railroad Bridge
Included are Box, Flight and Position; Bomb Squadron; Aircraft Serial Number, Fuselage Code and Model; and Crew Members
transcribed from individual mission Loading List documents by Chris and Mary Adams and Carl Sgamboti.
Some information, such as Squadron, Serial Number, etc. has been expanded from other documents.
Box I -- Flight I
1 671st
43-22498 5C-R A-26C
Lt Brown, C.J.
Lt Kerns, J.E.
Lt Hanna, R.C.
S/Sgt Corbitt, C.H.
2 671st
43-22313 5C-B A-26B
Lt Hlivko, A.E.
Sgt Graub, R.E.


3 671st
41-39249 5C-F A-26B
Lt Cocke, J.B.
S/Sgt Redding, R.D.


4 671st
43-22352 5C-J A-26B
Lt Withington, D.L.
S/Sgt Eaton, A.B.
Col Stromme, J.L.
[Stromme (ETOUSA Reclassification Specialist)]

5 671st
41-39300 5C-K A-26B
Lt Graeber, T.E.
Sgt Appleman, M.


6 671st
41-39265 5C-V A-26B
Lt Price, D.L.
Sgt Reicher, J.F.


Box I -- Flight II
1 669th
43-22304 2A-T A-26C
Capt DuFault, W.F.
F/O Cardinale, O.A.
S/Sgt Vorce, K.E.

2 669th
43-22351 2A-F A-26B
Lt Willard, J.A.
Lt Britt, J.W.
S/Sgt Hinker, C.V.

3 669th
43-22354 2A-S A-26B
Lt Hackley, R.H.
S/Sgt Hawk, O.T.


4 669th
41-39252 2A-D A-26B
Lt Allen, J.F., Jr.
S/Sgt Veazey, C.W.


5 669th
41-39393 2A-M A-26B
Lt Haskell, R.W.
Sgt Lea, E.W.


6 669th
41-39314 2A-H A-26B
Lt Smith, D.E.
S/Sgt Brinkman, E.R.


Box I -- Flight III
1 668th
43-22484 5H-C A-26C
Lt Parker, P.E.
Lt Shaft, R.E.
S/Sgt Kochan, S.

2 668th
41-39259 5H-H A-26B
Lt Blevins, J.W.
S/Sgt Gentry, F.


3 668th
41-39233 5H-F A-26B
Lt Drum, E.B.
S/Sgt Rivard, C.J.


4 668th
41-39188 5H-R A-26B
Lt Phillips, J.P.
S/Sgt Miller, W.A.


5 668th
41-39274 5H-S A-26B
Lt Evarts, A.V.
Sgt Youlios, D.


6 668th
41-39310 5H-A A-26B
Lt Lackner, R.J.
Sgt Fidler, W.H.
T/Sgt Childs, H.A.
[Childs (4th CCU)]

Box I -- Flight IV
1 670th
43-22501 F6-W A-26C
Lt Hall, R.B.
F/O Goss, T.L.
S/Sgt Jackson, W.S.
Lt LaHaye, W.H.
[LaHaye (Weather)]
2 670th
43-22315 F6-L A-26B
Lt Downing, W.E.
Sgt Neal, D.E.
[Landed at A-71]


3 670th
41-39223 F6-B A-26B
Lt Bower, R.S.
Cpl Wilson, B.R.


4 670th
41-39416 F6-O A-26B
Lt Singletary, R.B.
S/Sgt Wiggins, H.G.
S/Sgt Richards, D.B.

5 670th
41-39315 F6-F A-26B
Lt Curtis, J.C.
Sgt Mathews, J.M.


6 670th
41-39232 F6-N A-26B
Lt Henson, A.G.
Cpl Homler, R.K.
Sgt Mirabella, P.A.
[Mirabella (4th CCU)]

Box I
SPARE 670th
41-39564 F6-V A-26B
F/O Boerner, S.B.
Cpl Showers, M.W.


SPARE 668th
43-22385 5H-D A-26B
Lt Tank, F.R.
Sgt Harmon, F.B.


CAMERA 669th
43-22492 2A-E A-26C
Maj Sommers, H.L.
S/Sgt Heath, K.


---
Group and Unit Histories
Mission # 271 -- April 12, 1945, Thursday PM
Hof, Germany -- Railroad Bridge
"416th Bombardment Group (L) - Group History 1945"
Transcribed from USAF Archives

Although the weather did not improve, 27 aircraft took off that afternoon to attack the Hof railroad bridge farther north from the morning's target. Weather forced the formation down to 5200 feet to make their attack. The bomb patterns completely surrounded the bridge. There were four direct hits on the railroad tracks, eight on the roads, and 20 buildings destroyed or damaged in addition to the destruction of the bridge. A commendation was received from Gen Anderson on the fine job done in getting to the target and bombing it in bad weather. The planes returned to the base in the middle of a driving rain storm. Only one plane was diverted to another field. There was no flak. Lt Brown, with Lts Kerns and Hanna, B&N, led the single box which made the attack. This was the eighth mission flown in four days and all but one had been extremely successful.
"Attack Bombers, We Need You! A History of the 416th Bomb Group"
Ralph Conte
Pages 252 - 253
Mission #271 - 12 April - PM - Hof Railroad Bridge. The weather did not improve later in the day, but 27 planes took off anyway, going a little further than the target assigned in the morning. Weather forced the formation down to 5200 feet to make the attack (watch out for the high mountains!) There were four direct hits on the railroad tracks, eight on the roads, and 20 buildings destroyed or damaged, in addition to the bridge being destructed. The planes returned and landed in the middle of a driving rainstorm. Only one plane, Lt. Downing, was diverted to another field. No flak met the formation. Lt. Brown with Lt. Kerns and Hanna BNs led the formation. Lt. Hall and F/O Goss led a flight. Ninth Bomb Division Commander General Samuel E. Anderson sent congratulations to the 416th for the excellent bombing at the Hof Bridge. Our four flights scored one superior and three excellent.
"668th Bombardment Squadron (L) History"
Transcription from USAF Archives

Our pilot-bombardier teams continued to hit the assigned targets, inflicting damage upon the enemy's remaining communications centers and storage dumps, which materially hastened the final victory. On 11 April, Major McNulty and Lt Powell scored a "superior" in an attack on Bernburg Marshalling Yard. The following day, Lt Paul E. Parker and Lt Robert E. Shaft led a flight against a rail bridge at Hof, also with "superior" results. On 20 April the bombing of the flight led by Lt William Laseter and Lt Mark P. Schlefer on Deggendorf Oil Storage Depot rated a "superior". On 21 April the team of Captain Evans and Lt McCartney continued its excellent combat record with a "superior" for the bombing of Attnung-Pucheim Marshalling Yard.


"669th Bombardment Squadron (L) History"
Transcription from USAF Archives

Bad weather, on the afternoon of the same day, forced the formation down to an altitude of 7,000 feet in order to attack the Hof Railroad Bridge. Many bomb hits were seen near the structure, but when the smoke had cleared, it was seen to have been damaged but not destroyed. Capt. DuFault and his Bombardier-Navigator Flight Officer Cardinale, led the Second Flight of the First Box of the formation.
"670th Bombardment Squadron (L) History"
Transcription from USAF Archives

Twelve of our crews participated. Mission No. 271 in which 6 crews from this squadron participated, was led by Lt. Hall and F/O Goss against Hof Rail Bridge produced excellent to superior results. One aircraft piloted by Lt. Downing diverted because of bad weather.

Capt. Paul C. Atkinson left the squadron on the 12 Apr 1945 for 30 day leave in the United States. Capt. Atkinson left with the good wishes of all members of this organization.

The news of the death of President Franklin D. Roosevelt was received with a shock to the members of this organization. It was felt by everyone that the nation had suffered a great blow.
"671st Bomb Squadron (L) Unit History"
Gordon Russell and Jim Kerns

April 12th, 1945

Congratulations by Ninth Bomb Division Chief, General Anderson, were bestowed upon the 416 Bomb Group for the job they did on the bombing of the Hof Railroad Bridge on the afternoon of April 12th 1945. General Anderson stated that reports indicated that this very important bridge was definitely rendered unserviceable by the attack. The Group dispatched four flights to this target and on superior and three excellents were scored. The bridge is located just a few miles from the Czechoslovakian border.

The 671st Squadron can claim more than its share of credit for Lt. Brown and Lt. Kerns led the formation to the target and dropped their bombs with excellent results. Continue on the next page.

The group encountered rough weather on route to the target, but Brown and Kerns led the ships through the clouds, rain and haze. Bombing was done from 5000 to 5500 feet.

The Group was dispatched in the morning to the Kempton Ordnance Depot, but the formations ran into rainstorms and were recalled. This was the case with seven other groups that were dispatched in the morning also.


---
---